I'M BACK!!! And it's time to get blogging again! Yes, about my trip to California.
Like the American's favourite word..."awesome"! Yes it was. I must say though that upon landing we weren't really impressed. The airport runway looked old and there were patches of earth with dried up grass. Very unlike what Changi Airport wld do to spruce up the place - even if it means beautifying the place with fake lawn grass. Even mum commented that Sweden had a bigger impact on her even upon landing.
Our first day wasn't very eventful. I planned a couple of things to do but we were pretty tired so we napped the day away...then I forced the two to wake up so that we could prevent jet lag. The receptionist during our check in (still remember his name..Kamal Ahmed) was pretty annoying. He was giving us all sorts of lame excuses not to give us a special rate viz. EEG Inst where mum was attending her course at. Luckily I was in my arguing mode - saved at least USD100 a night!! Our first dinner was Mexican food. Nice...but it's quite "muak" (dunno how to say it in English..but it's the feeling like..when u eat too much cream and u get so like "whoa enough already" haha). One meal and for the rest of the trip, we didn't want Mexican anymore.
Our first adventure was to Disneyland. Oh and might I add that I had an adventure with the Toyota Highlander that we rented from Hertz. HUGE car..an SUV in fact...we had to get that instead of a smaller Hyundai cos we wanted the GPS ("NeverLost" system that would give us directions. Turned out to be really useful...we never got lost...just took a couple of detours now and then tsk tsk). Disneyland wasn't as exciting as I thought it'd be. The entrance wasn't that grand and the rides...well..perhaps cos I had to take most of them alone. Mum n Flo are not into motion rides...tho I managed to drag Flo on a couple. Was her first time and I must say she was really brave about it. You go girl! At least I got to meet Mickey Mouse haha. I got excited just seeing a fake "Captain Jack Sparrow"...he looked pretty close to Johnny Depp's character. I think if it'd really been him I'd have gone bonkers. We had an extra treat since it was their 50th Anniversary this year, so at the end of the day there was a parade going on with all the cartoon characters. Wish I were a kid again!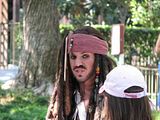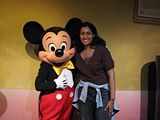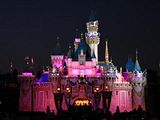 Universal Studios the next day was totally amazing. Best theme park I've ever been to, and way better than the one at Brisbane (from what I can recall). They lived up to their reputation of being the biggest and most entertaining theme park in Hollywood. The behind the scenes tour of the sets were very insightful...and really really cool. They had very realistic simulations - like the one where our tram stopped in a Mexican "town" and it started raining (the sprinklers turned on) and very soon the "river" overflowed and water gushed out and flooded the streets. The fire display commemorating the movie dedicated to firefighters "Backdraft" was one of the most thrilling simulations I've ever seen. Real fire mind you...explosions here and there...and the set was only a couple of metres in front of us. We could literally feel the heat...that short presentation made me feel in awe abt the brave men who fight fires almost everyday. We even got to see Wisteria Lane of Desperate Housewives...there was filming going on that day but too bad we didn't get to see the housewives. We got our drawings done at Universal too. The artist was so nice..gave us a discount..maybe we look like poor students lol.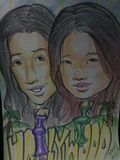 Other highlights were the Mulholland Drive Scenic Corridor where we got to see a bird's eye view of LA. We drove along Topanga Canyon as well to see the Santa Monica Moutains...they were simply magnificent. I can't help but marvel at the fact that they have established a city surrounded by mountains. It's like..usually the moutainous regions I've been to in Indonesia are in the rural areas...but here in this City of Angels...surrounded by beautiful scenery even on ur drive to work. Wow. I got distracted while driving a couple of times cos I was gazing at the scenery. Would be a beautiful place to live in. The UCLA campus was also fabulous - huge and lots of greenery. I only saw a tiny section of it and was already amazed. Something we'd NEVER get over here! Sobs...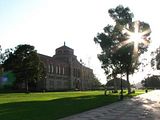 Oh and did I mention that I got excited everytime I saw the Hollywood Sign..tsk tsk. First time was when our dearest GPS directed us to a spot to take pics of the sign. Second was when we were driving along the moutains, third was in Hollywood...Flo cldn't understand why I was so excited. Wel, I couldn't either..lol. Just that I've always wanted to see the "typical" Hollywood thing. Hollywood itself wasn't as exciting though..I guess it's the glitz and glamour of the stars that make it more alive. Hollywood Blvd was quite a disappointment. Apart from the Walk of Fame, near chance to catch Jessican Simpson (we decided she wasn't worth sacrificing sunset for), tour of the Kodak Theatre where the Oscars are held (and will be held till 2070 I think..), there wasn't much else to see. We had a bit of a thrill seeing where the stars live...got to see Tom Cruise's Merz leaving his house. Unfortunately the closest I got to seeing Johnny Depp was his star on the Walk of Fame. Oh well, there's always next time. haha.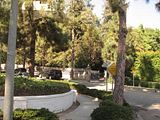 We had a bit of a detour on our itinerary. Instead of getting to Palm Springs, we spent a day at the hospital cos Flo strained her back It was pretty bad cos she was getting into spasms and all...thank god her condition was serious enough that they let her in only an hour after registration. There were patients who had to wait for like up to 3 hours, a few giving up and cursing the management and all. Boo to Chicago Hope and ER and what have you...the service there wasn't impressive at all. Flo was into major spasms when she was in the triage yet she had to wait another half hour before being treated, cos the nurse couldn't administer anything till the doc had seen her. And they didn't let me in so I spent 3 hrs alone in the waiting room worrying whether she was gonna be ok. Managed to chat to a couple of locals tho, learnt a few things from them like how their medical system works and how college costs USD30000 per year! The lady I was talking to was sweet enough to convey to my mum that I was waiting outside when she went into the triage with her daughter (who coincidentally had a back strain too). Then finally mum came out to smuggle me in so that I cld be assured that everything was alright. Flo was give a couple of Valium jabs (pretty strong..they wldn't do that over here). She got a bit drowsy after that. Subsequently, everytime she took her Val pills, she was a bit tipsy. It was scary but hilarious to see her behaving so childishly as opposed to her usual "controlled" self. So point to note: if you're not depressed, that's what Valium can do to you. Lol.

Santa Monica Pier was more brilliant. Thanks to my LA friend, Chris, who told us to go there to catch sunset. It was the most beautiful sunset ever (ok well..I'm a freak for sunsets and anything nature...). The setting was pretty romantic too - sunset, baskers playing romantic love songs, watching birds in the sky, lovers walking hand in hand. Ahhh..wished the moment lasted longer. Flo n I had a fantastic time there...lovely.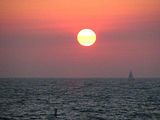 Okies, that was a lowdown on our LA trip. I don't feel that I'm done with that place, so if any of u have plans to go there, let me know!! Hehe. Lots more things to see! You can check out my photos
here
. There's loads...couldn't help not uploading a lot of them..even after a lot of careful picking and choosing. Oh well, the photography freak in me... :P